Bismarck Event Center Seating Chart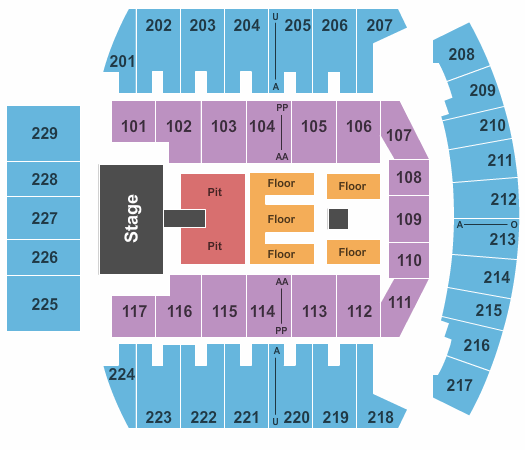 The Bismarck Event Center Arena has a capacity of 10,100 seats. Wheelchair accessible seating is available at all events in the arena. Accessible locations are found in the 200 Level north and south of the building. Availability of locations is dependent upon event seating. For availability and exact locations, please contact the Bismarck Event Center.
The Exhibit Hall does not have any specific disabled seating as the layout is changed for every event, however all areas are wheelchair accessible and accommodation will be provided in the event of a seated layout.
Elevators for the Exhibit Hall are situated on the south side of the Exhibit Hall Lobby entrance either side of the restrooms. Elevators for the Arena are on the west side of the Arena Lobby Entrance next to the restrooms, the north-west corner next to the Spruce Room and the south-east corner, rear of the stage, next to the restrooms and exit.
Unless otherwise specified by the promoter, children under the age of two are admitted free of charge if they sit on a lap of a ticket holder. Car seats are not allowed unless a ticket is purchased for the car seat and strollers are not allowed for any seated event. Strollers are permitted for trade show (walk-through) types of events.
NOTE: Bismarck Event Center may host events that require different seating arrangements. When you select your tickets, please check the seating chart map that is specific for your event.
You can book your ticket today and grab yourself the best seats available. Check out the Bismarck Event Center schedule to see all the exciting upcoming events.
For policies and authenticity guarantees regarding the tickets provided, please see the ticket information page.